Now that we are entering the season of giving, it's a great time to think about how we can give great gifts, as well as support our local community. Soon you will be invited to holiday dinners and parties, thinking about gifts for your loved ones, and sourcing gifts to show client appreciation, so it's the perfect time to prepare.

​​​​​​​Since supply chains have been interrupted, and cargo containers remain tethered at sea or stacked at ports, it's becoming increasingly important to prepare early for holiday gifting this year. Purchasing locally supports independent artisans and shop owners, their independent suppliers, as well as removes the concerns about your gifts arriving on time. Keep reading for some of my favorite local options, and please share yours with me so that we can continue to put small businesses in the spotlight.​​​​​​​
Carlinos Gift Baskets

With locations in Ardmore and West Chester, Carlinos Gift Baskets is a great way to show your appreciation for friends, family, or even clients. This option opens up tons of opportunities for thoughtful gifts including specialty baskets which range in sizes, family dinners with enough to share, and pastry boxes or cookie tins. Not only can you give your loved ones a beautiful handcrafted box or meal, but Carlinos also has their own signature olive oils, candles, and cakes. The best part is if you aren't local or if you'd like to send a gift to someone outside of the area, you can choose to have it shipped. Carlino's also offers gift cards, t-shirts, and even branded hand towels, which would make the perfect addition to your gift. Will you be hosting an event? Click here to find out more about their catering options to add a little flavor to your holiday season.

​​​​​​​Wellington Square Bookshop

Next on my list is Wellington Square Bookshop, which is the perfect gifting option for the avid reader in your life. Located right in Exton, they have a wide assortment of fantastic reads in everything from science fiction to self improvement and even beautiful journals and calendars to give as gifts. As a great local business, they also feature local authors within their collection to highlight the region as well as a monthly book club that focuses on Fiction, Nonfiction, and the Classics.
Featuring the Antipasto Basket from Carlinos.
If you're unsure of the exact author or title your friend or loved one may be interested in, they also offer gift cards, which is a great way to show your appreciation. Last but certainly not least, you can choose to shop online to send a great gift from miles away.
​​​​​​​
Park Avenue Pastries
​​​​​​​
For the sweet tooth friend, family member, or client, Park Avenue Pastries is a wonderful gift. With custom ordering options, the ideas are endless for sharing a special moment this holiday season. Each cookie is hand designed with your theme in mind and includes multiple shapes, sizes and decoration. The owner, Kim Laughlin, includes options for Thanksgiving, Christmas, and Hanukkah which can be found on the website, but with the custom ordering options this could even be for a hostess gift at a holiday party or for a fun stocking stuffer with a personal touch. Click here to view their custom cookie ordering form, and be sure to follow them on Instagram for cookie inspo. Be sure to order ahead for shipping or porch pick up as this sweet vendor does not have a storefront.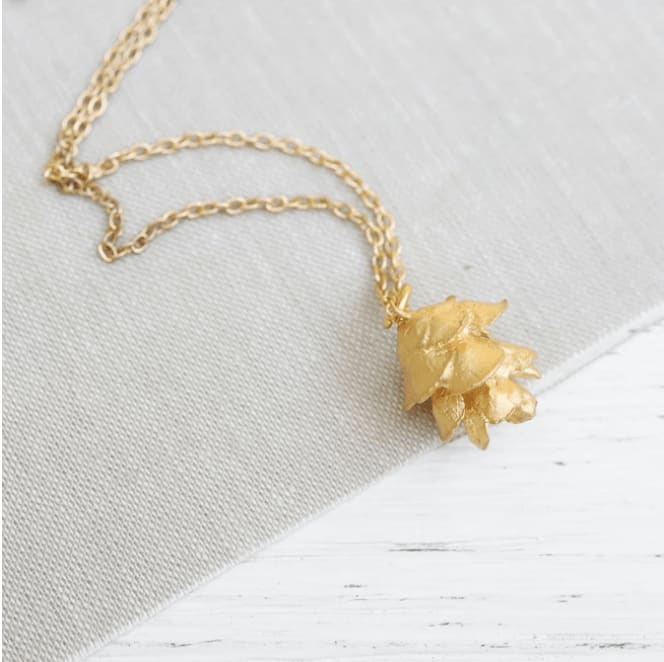 Featuring the Cast Bronze with 24K Gold Pine Needle Cone Pendant from Dandelion Jewlery.
Dandelion Jewelry

​​​​​​​Switching gears from tasty treats and great reads is Dandelion Jewelry, a family owned jewelry store with three locations in the Pennsylvania and New Jersey area, including Suburban Square in Ardmore, The Promenade Shops in Center Valley, and Palmer Square in Princeton. Dandelion is unique not only for it's gorgeous packaging for gifts and purchases, but for their ties to the local creative community. They sell beautiful pieces of jewelry created by local artisans and even give them a spotlight on their website so that customers can learn more about the artist. With unique options for all of the special people in your life, shopping with this brand for your holiday gifting is a great way to support local.

Trove General Store

Step back in time with gifting options at Trove General Store, which is located in Paoli, PA. Selling everything from curated home decor items and artisan soaps to outdoorsy clothing and even books, Trove is a great option for a one of a kind gift for someone special in your life. Not only would a gift from Trove be a wonderful pick for Christmas or Hanukkah, but much like Park Ave's custom cookies their home decor would serve as a fantastic hostess or holiday housewarming gift. If you're looking for a cozy gift you can also purchase one of their hand poured candles, which are made of 100% soy wax.
Philly Independents

Last but not least whether it's for a Philly local or a friend/family member living out of the area, the lovely Philadelphia themed gifts at Philly Independents would be perfect for your gifting plans. Located on N 3rd St right between Market & Arch Streets, they are selling great options like mugs, pins, t-shirts, and even gifts for babies and dogs. All of their products are sources from local makers and help to enhance the community. In fact, they are carrying handmade goods from over 50 local artisans. Click here to browse their shop, and stop in to meet their team.